One of the things I was reminded about at Reeperbahn Festival Conference 2017, was the cover song YouTube strategy. So, this is how I started looking for a suitable cover song.
The cover song needs to be searched for, but preferably have as few other cover versions as possible. Essentially, a video that would be in high demand, but with not many competing videos. Naturally, the song should also be one that I would enjoy covering.
I searched for Pet Shop Boys' songs on YouTube. The suggested searches list is arranged by popularity (the number of searches). "Always on my mind" and "Go west" are cover songs already, so I didn't want to pick those. "It's a sin" is a bit too overdone, "What have I done to deserve this" is not something I would enjoy doing a cover of. The rest of the list looks good – I could pick any of these songs, but "Rent" is probably the one that would suit best for my style.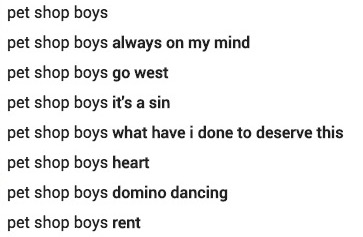 The next step is to search for that specific song. I typed in "Pet Shop Boys Rent cover" and checked the results. I found mostly acoustic versions of the song, and the ones that were more electronic, weren't too great. Even the crappier ones had around 10 000 views, so there certainly would be room for a good cover version. I compared the results to the other songs, and found out what I already expected – there are way more cover versions of "It's a sin". Some were really popular with tens of thousands of views – for example, this cover by Janet Devlin has 85K views at the time of writing:
[su_youtube_advanced url="https://youtu.be/dIU3bEFHDWI" playlist="bpwdTxTYOaE,TseqEgacjg4,RPtRdZAJa2A,GHPYHEsn91E,p2mAE0zW01o,gWLWlKEK4fU,gJFGUhdMndc" width="1500″ height="1000″ modestbranding="yes" https="yes"]
Looking at TubeBuddy statistics, I saw that she had earned 194 subscriptions with this video alone, in a year. She's also done 56 other cover songs, and been at it for 7 years. One of her cover songs has over 3 million views, averaging somewhere around 500 000 views, which is amazing. Even her least popular covers have a hundred thousand views. Janet has earned tens, if not hundreds of thousands of subscribers through cover versions. Now that she's got an audience, she can release original material and actually get it heard.
It's worth noting that her titles, descriptions and tags are well-thought. The song title is first, original artist second, and her own name last. Optimized for search.
Back to the original topic – doing cover songs on YouTube makes sense only if the song is searched for. Do your homework before covering a song.
I will need to do more research before doing my own cover song, but it will definitely be a song written by the Pet Shop Boys, not a cover song by them. Previously I wasn't really too excited about doing cover songs, but the numbers have started to lure me to this path.