Search engine optimization is one of the ways to get discovered. That's one of the key reasons why I'm writing this blog. Sometimes I check the search phrase volumes in Google AdWords Keyword Planner, to get some guidance on what kind of information people are looking for. If you can answer popular questions well, you'll get a lot of traffic.
There are no accidents
It's clear that when people land on this site from a technology article or music business article, they're not looking for our music. They're looking for answers to their questions. I'm trying to answer those questions according to my experience. It's likely that I'm writing about something that I couldn't find an answer to, such as the Crowdfire test results. A portion of the people who find an answer to their question will watch our music videos, or play a few songs, and might actually find the music worth listening.
The conversion rate is not high, but then again, any means of getting people to come to you, is usually worth doing, especially if it's free and will be useful useful for years to come. Optimizing your site for search engines takes lots of time, but it also keeps on bringing visitors in for years to come. Also, documenting your own progress will also make it easier for you to become better at what you do, because you can see more clearly where you're at right now.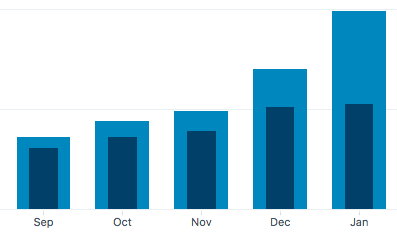 Traffic at Unzyme.com has grown steadily for five months in a row, and the visitor count seems to be growing faster than I thought. In October I started blogging a bit more actively, but in December I really started to put out a lot of content. I wrote as much as I possibly could, while still working my ass off with other Unzyme-related things, such as music production, video production, booking shows and marketing. Writing's got me hooked, because more and more people are discovering us through this site. Blogging honestly about my journey is also something that many artists don't do. My goal is to find out the methods that work, and become a mentor in music marketing.

January was a record month at Unzyme.com. The numbers are still far from impressive, but the trend is clear. There were 1979 visitors in January 2017. Based on last week's numbers and the growth rate of the previous months, I'm already projecting 2800 visitors in February. I'll tell you the actual number at the end of February.
The majority of visitors come from search engines, but Twitter and YouTube are also driving a major portion of the traffic.
Hit articles drive traffic to other content
One of the most popular articles on this site is the Nexus 2 eLicenser dongle rant. When you look for "nexus elicenser dongle", it's the second result on Google's front page, right after the official Nexus site. They're probably not happy about it, but they should really change their licensing system! Anyway, the article has already brought us thousands of visitors. Some of them find our music "by accident", follow us on Twitter, etc. The MacBook Pro rants are also quite popular.
Give your visitors lots of reasons to spend more time on your site
In January I added "related posts" feature to this blog, and to my surprise, people read way more articles than before. They just couldn't find the content before. And when people spend more time on the blog, the site ranks better on Google. Search engines track your behaviour after clicking a search result link – if you come back immediately, then you probably didn't find what you were looking for. If you spend a few minutes on the site, or don't return to the search results page at all, then you probably enjoyed the content, and the search engine marks the page as a viable source of information and ranks it higher on the list.
Optimize single posts
It's important to remember that search engine results are based on separate pages or posts, not the whole site. But if a lot of pages are indexed from the same domain, and many of the articles perform well in the robotic eyes of the search engines, then all of the articles rank better in the search results. For example, now that I've written a lot more content, the earlier articles get more attention too, because the site is considered active and relevant.